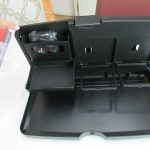 Multi-use Car Organizer
RM37.90
-Attach conveniently to the back of a car seat, travel dining tray has 2 drink holder, food tray, holder for french fries & ketchup and hook for trash bag.
-Made with high impact plastic which is both durable and easy to clean.
-The tray can be installed at the headrest of seat for rear passenger use.
Out of stock